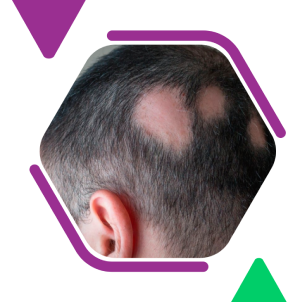 AA is a common ,usually patchy ,non-scarring hair loss condition affecting any hair bearing area.
It can affect 1.7% of population Male= Female.
More common in children about 20% patients are children and report for first patch before age of 20
The exact cause of AA unknown
May be due to interaction of genetic and environmental factors
Stress.
Infectious agent (Cytomegalo Virus).
Vaccinations.
Hormonal factors.
Genetics-there is positive family history( Gene CTLA4,ULBP3/6,IL2/21&IL2RA).
Autoimmunity is major pathogenetic process in AA
AA can been seen as an organ specific autoimmune condition characterized by T cell-mediated attacks on the hair follicle
Andogenic alopecia.
TE.
Tricotillomania.
Syphilitic alopecia.
Abrupt loss of hairs and marked hair shedding.
The characteristic lesions of AA are oval or round ,totally bald and smoothpatch involving the scalp and any hair bearing area on the body.
Scalp and beard is most affected area.
The patch may be mild peachy or pinkish-red in coluor.
Nail dystrophy may be associated with AA.
Thyroid function test.
Test for ferritin,Vitamin-D,B12,Selenium ,Zinc and Copper may be useful.
Mechanism of action- Immunosuppression is main mechanism of action.
Intralesional Corticosteriods
Intralesional corticosteriods injection is first line therapy for adult patient with less than 50 % scalp involvement.
For circumscribed lesion ,intralesional corticosteroids is first line treatment.
Triamicinolone acetonide is drug of choice. 5mg/mL with maximum of 3ml of triamicilone acetonide is injected intralesional with 30-gauge needle.
Initial growth is ofen seen in 4 to 8 weeks.
Trearment is repeated every 4 to 6 weeks.
Main side effect is atropy of scalp.
Children below 10 years are usually are not treated with intralesional corticosteroids.
If after 6 month there is no response ,discontinue the treatment.
The use of 0.05% Betamethasone dipropionate cream,0.05% clobestole propionate and 0.2% fluocinoloneacetonite crean has been advised for hair growth.
Primary complication from the use of steroid is skin atrophy, telangiectasia and folliculitis which are reversible on cessation of treatment. Little is known about adrenal suppression with use of topical steroids.
Oral steroids may be useful in active disease .Oral prednisone is most commonly used drug. Dose is usually 0.8 mg/kg with tapering dose regime over period of 6 weeks. Methylprednisolone inj. may used for extensive and recent disease
Side effect of steroids are
Weight gain.
Osteoporosis.
Hypertension.
Psychological changes.
Suppression of adrenal cortical axis.
Striae.
Acne hypertricosis.
Purpura.
Diphenycyprone is most commonly used topical sensitizer. Sensitisation is started with 2% solution with 2 week time period.It may take 2 years to show results.
Side effects arevesicular or bullous reactions,dissemination of allergic dermatitis,urticarial,enlargement of retroauricular lumph nodes, altered skin pigmentation.
Minoxidil : Topical and Oral
Patient with patchy alopecia areata have been reported to achieved acceptable regrowth of hairs with 2% application of minoxidil.
Psoralene –Ultraviolet A (PUVA) can be used for patchy alopecia areata.
It can have used for treatment of AA
Biologics
Not recommended for AA
Combination Therapy
Most commonly Topical steroid and Minoxidil is used in treatment of AA. With promising results.